We sat down with trend expert Cate Trotter to talk about the future of retail.
Cate Trotter er en britisk trendekspert og grunnlegger av Insider Trends. Vi fikk muligheten til å stille Cate noen spørsmål og publiserer på engelsk av praktiske årsaker.
The future of retail is most likely digital, but what will it look like? As we don't have a crystal ball, we decided to ask trend expert Cate Trotter. Trotter talks about the transition from physical to digital, the importance of customer experience, the Amazon threat, and the future of traditional retailing.
What trends within retail will be most influential or significant the next ten years?
The key for businesses is to think digital first. I think traditional retailers are underestimating the level of change coming. What I think retailers need to do, is to design the perfect way of selling and interacting with customers from scratch, and think about how they can use a variety of digital channels to support their business. This can be done with websites and social media, but also augmented reality and voice.
A lot of retailers say physical shops aren't going away, but I think that way of thinking will make you go out of business.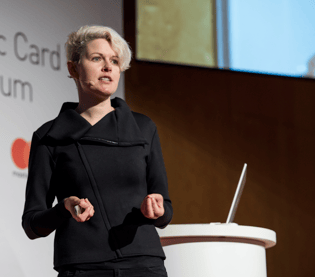 How should businesses make the transition from physical to digital?
It's about being a few steps ahead of your customers. Look at what your target customers are doing today and envision what they'll be doing two years from now. Whether they will be buying through apps or talking to a chatbot, you need to start to loosely experiment around these types of solutions. You don't have to do everything now, but working out which things that can be appropriate is a good idea in order to stay ahead.
There are a lot of traditional businesses who are making more than 50 percent of their sale through digital, which is incredible. They are beating a lot of the forecast and proving that not all of your selling needs to be done through the store.
The internet's nothing new. Why is this transition so difficult to make?
Good question. I think it's got something to do with the attitude toward innovation and risk because none of this is 100 percent certain. It's hard for a big company to organise itself in order to experiment and do things differently. And there is something scary about not relying on your stores as much. There's also an ethical issue about saying that there might not be as many jobs available when things go digital, especially if you're employing tens of thousands of people.
Who's leading the race right now?
Interestingly Walmart is doing great things with their innovation labs, buying different types of startups. Nike is another example, embracing digital first to interact with their customers, for example with their sneakers app. They're using digital to build an experience, and not just to sell, which is very exciting. They've also realised that their stores can be used to engage their customers, by offering perks to members of their digital platforms. This way of connecting your platforms with your stores is really clever.
How can you compete with the likes of Amazon, who can actually bear the last mile costs without going out of business?
Well, Walmart gave their suppliers a choice: keep working with us and stop using Amazon's web services, or find someone else. The reason why Amazon can do things that are not profitable is because it's all being funded by their web services. Ironically, their competitors are hosting their services on Amazon platforms, essentially paying to fuel for Amazon's retail arm that's threatening their business.
You should also look at what Amazon can't do because they can't do it all. Amazon does speed, variety and price incredibly well, but can't do things like fit. They're also great when you know what you want to buy, but half of the time people don't know what they actually need. If you can build an experience where people can discover products, through a chatbot or a customer assistant, you can provide that extra value that Amazon can't.
Will traditional retailing exist in ten years time?
It's hard to say what will actually happen, but I don't think it will be a disconnected experience anymore. I'm not going to say that traditional retailing will be dead, but if you look at the potential computer power coming down the road, the future could become quite different. I think that most sales will go through digital platforms, with physical retailers moving more towards entertainment and experience-based retail.
What about the B2B segment?
All of the stuff you're seeing in B2C will eventually trickle through to B2B, like chatbots for example. The fact that B2B is behind in some instances, means there's a massive opportunity for someone who wants to act on this stuff. Customer loyalty is also very high in B2B, so a better experience will lead to better satisfaction. It just makes sense to bring digital to this segment, as well.
Photo of Cate Trotter by Photographer Joanna Jõhvikas